Published by Tamara on 30 May 2006
As you may (or may not, depending on how you read the site) have noticed, there's a new Tamara photo up over there. Louie took that one on our way to a Christmas party. I look like I'm about to get up to some serious mischief. But as it turns out, I always try to look that way in photos.
I'm severly un-photogenic. There's the big problem of my skin (hate) and my wrinkles (fucking cigarettes prematurely aging me!) and usually I have either huge bags under my eyes or dark circles or both! So I've found my pose. I'm sticking to it. I hope it doesn't make you think I just fed your children a whole bunch of sugar and caffeine right before I'm about to return them to your care. Or that I'm hiding weed in my underpants. Actually, that would look more like this.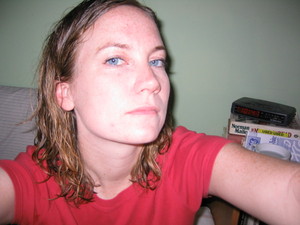 This is part of a whole series of photos I have that I've taken of myself. I usually try to take them when I'm feeling pretty. Or, as it appears in this photo, when it's 10:47am and I'm hiding weed in my panties and the pot brownies were delicious, thanks for asking. I used to think it was weird that I took photos of myself. Then I met Sarah and she told me she does the same thing, and I realized, not only is the internet for porn*, but it's also for meeting people who do weird things like you. So you don't feel so all alone.
*I'm not sure why I asterisked this. It seems like I had something to say about the internet being for porn. But I'm not sure what exactly I was going to say. Maybe I was worried that people wouldn't click on Sarah's page because they think it's porn. It's not. She's wholesome. I know, I've had many drinks with her.